ISPN Foundation Resources - How Can I Donate?
The ISPN Foundation Board of Directors takes its role as steward of donated monies very seriously. Recipients of research and scholarship awards are carefully selected to further the advancement of research, education, and advanced practice psychiatric-mental health nursing. Download the following files for complete information.
ISPN Foundation Lamplighter Program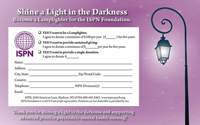 "The pledge of monies made through the ISPN Foundation Lamplighter program "help to bring mental illness out of the shadows" through research and education. The Foundation plays a critical role in raising the bar for the profession. Through the years many people have been touched by the shared knowledge and expertise of ISPN members - and many don't know it. A donation and pledge to support the Foundation will serve ISPN in many ways, including offering scholarships to graduate students to attend the annual meeting and funding pertinent psychiatric mental-health nursing research." Make your donation today by printing off the pledge form and making your first $100 payment via mail, or through the online renewal form.
Lamplighter Donation Form (PDF)
Thank you to our Lamplighters!

SUPPORT ISPN while you shop or browse online!
The ISPN Foundation has established an account with iGive , an online shopping portal that will earn money for the Foundation every time you browse or shop using the iGive link http://www.iGive.com/ISP-MHNF .
When you shop online with any of over 700 stores, up to 26% of your purchase price will be donated to the ISPN Foundation. Many of the stores also have special coupon deals just for iGive users. All you have to do is go to the link above and sign in as a participant. If you download the toolbar to your homepage, it will give you a very convenient reminder to use the portal for all your shopping and browsing.
An added bonus! If you make your first purchase within 45 days of joining iGive, the Foundation will automatically get a $5 bonus donation.
Signing up is quick and very user-friendly. It only takes a minute.
We have carefully researched this method of fund-raising and discovered that hundreds of organizations have successfully used this method of raising extra funds. We hope that you will support the ISPN Foundation by signing up and using iGive. Download this info in PDF format.
Thank You to Our Generous Donors!!